C.A.R.P:
Campaign Against Renaming Products.
CARP is a 'semi'-militant group opposed to the renaming of popular products by large companies. Formed after the Marathon incident of 1993, when the great 'Marathon' bar was renamed 'Snickers', CARP continues to fight against change on the shop shelves.



MARATHON.

For those poor souls too young to remember, there was once a time when the sweet-toothed could enter any respectable confectioners and purchase a delicious peanut-based chocolate bar with the powerful name 'Marathon'. Then, one fateful day, they were told, 'Oh, you mean a Snickers'. Yes, Marathon was replaced by Snickers.
CARP says 'NO'.
CARP says 'MARATHON'.




OPAL FRUITS.

In the same respectable confectioners in which a Marathon could be purchased, sweet-lovers could also treat themselves to a packet of Opal Fruits. Yes, the sweet to make your mouth water. Then, the 'marketing department' took it into their heads to rename Opal Fruits 'StarBurst'.
CARP says 'NO'.
CARP says 'OPAL FRUITS'


We will remember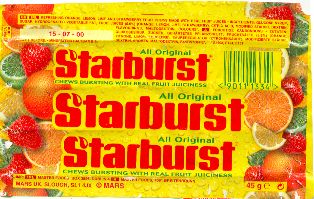 CARP says 'NO', and appeals to you to refer to them as OPAL FRUITS at all times.



JIF

One of the most recent massacres, by the marketing department of Unilever International, that all-powerful domestic germ buster Jif has been renamed 'Cif'. This is because apparently Slovenians cannot pronounce 'Jif'.
CARP says 'DON'T CHANGE JIF, CHANGE SLOVENIANS'.
CARP says 'NO'.
CARP says 'JIF'.


REMEMBER: Ask for JIF




OIL OF ULAY

Why oh why did some IDIOT go to the trouble of changing Ulay to Olay?? CARP doesnt know, and CARP doesnt care as long as they change it back NOW.
CARP says 'WHY? FOR THE SAKE OF A VOWEL, WHY??'
CARP says 'NO'
CARP says 'ULAY'


Maybe an executive got stressed? or an advertiser got pissed? Whatever the reason for it, CARP says 'Don't use 'O''
CARP also objects to:
The Artist Formerly known as Prince:
CARP says 'NO',
CARP says 'PRINCE'.
Emmerdale:
CARP says 'NO',
CARP says 'EMMERDALE FARM'
CARP says 'NO',
CARP says 'THE SOVIET UNION'.
A CARP SUCCESS
Who remembers the short life of 'CHOCO KRISPIES' in 1998? Yes, for a brief period, Kellogs changed 'Coco Pops' to 'Choco Krispies'. They then held a vote of 1 Million school children and 92% voted to change back to Coco Pops.
But CARP knows that they had already made the decision to change back, and the voting was a marketing stunt. As Kellogs well knows, CARP forced them to change back. A CARP Kellogs insider kidknapped Coco the Monkey, and CARP told, not threatened, told Kellogs that if Coco Pops were not reinstated then we would be making a one-off cereal called 'Monkey Parts', with a free blood-stained blue baseball-cap. Kellogs promptly backed down, and Coco and his cap were returned safe and well. Coco actually supported our campaign and was quite willing to lay down his life.
Kellogs called the vote and rigged it to cover up CARP's security breach.
CARP gets results.
CARP said 'NO'.
KELLOGS said 'COCO POPS'.


Coco the Monkey, one of CARPS celebrity backers. Coco was an honorable captive and agreed his life was secondary to CocoPops fate. Thankfully, Kellogs knew what was for the best, and you can now buy CocoPops, thanks to Coco and CARP.









JOIN CARP NOW.

CARP needs commited shoppers to back our campaigns. Click below and send your email address and name to receive your free membership card.

Also click above to inform CARP of any name changes you are unhappy with. Be it a product, place-name, TV show Title, celebrity/band name, or anything else you feel warrants a CARP campaing, tell CARP about it NOW.